Don't forget to invest in the perfect hallway runner rugs for your floor, when it comes to decorating your home. A hallway runner rug will create a more welcoming, warmer and comfortable home. Hallway rugs are among the first things your visitors will see when they enter your house. They liven up the space they occupy, particularly when there is not enough room to put a lot of furniture in the available areas.
Bearing this in mind, here are some tips for you to find the perfect hallway runner rug that will match well with the space you have:
1. Measurement: To make sure you see an item that will pair well or fit the space perfectly, make sure you take the right measures for your hallway. Although it is very appealing to first look at styles and designs you like, it may mean wasting a lot of time because not all long hallway runner rugs will fit on your property. Take the time to measure the length and width of the hallway before buying your hallway runner rug. Besides, define the minimum and maximum size of the floor to ascertain that an adequate surface area of your floor is covered, based on your needs and preferences.
2. Online Catalogs And Magazines: There are different categories of rug styles in online catalogs and magazines. Take inspirations from these sources to find the right style of area rug that will satisfy both your taste and your hallway. Make sure you choose the proper design that will transform the look of your home and entrance, once you have defined the measurement of the space available and the look you want to create in your hall. You can create a traditional country-themed space or an Oriental one. Generally, area rugs can be rustic, minimalistic, traditional and modern categories among others.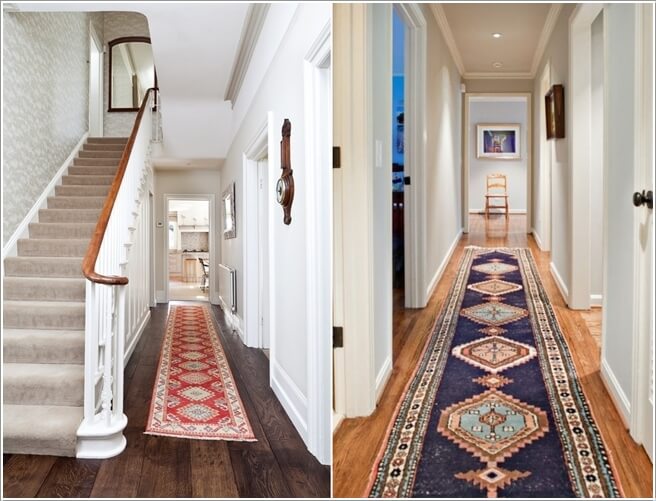 3. The Fabric Of Your Hallway Runner Rug: It is also essential that you take the fabric of your hallway runner rug into consideration because it will have a significant effect on how much wear and tear they can take and how you clean them. Besides, some dyes and textiles will fade faster than others. As a result, it could be an important consideration if you are choosing bright colors for a well-lit hallway.
4. How Resistant Is The Hallway Runner Rug? Ask yourself whether or not the hallway runner rug you would prefer to buy is resistant enough to accommodate continuous use by your busy family. If you are only looking for a merely decorative item, you may be able to get away with more delicate fabrics and design the hallway space of your dreams. Most of the materials may be machine washable while others will require dry cleaning. Moreover, paler fabrics are more vulnerable to showing any accumulated dirt, but the reverse is the case for darker fabrics.
Final Thoughts
A hallway runner is a top choice for high-quality rugs designed to match perfectly with your interior décor. Moreover, buying hallway runner rugs to decorate your home doesn't have to be complicated if you are equipped with the necessary pieces of advice like those discussed above. No matter how big or small your hallway is, you will find a perfectly sized runner rug for your hallway areas with the above tips.